The PRO-96 is a digital trunk tracking scanner manufactured by GRE and sold by Radio Shack.
Version Numbers


Turn the scanner off.
Turn the scanner on.
While the scanner displays


 Welcome to
   Digital
  Trunking


press the [3] key.

"Easter Egg"


Press [PGM]
Press [FUNC]
Press [PGM]
Press [TEXT]

You can switch between these displays by pressing [TRUNK] and [TUNE].
Pressing [MODE] will exit from this display, as will turning the scanner off and back on.
Two accessories for the PRO-96 (and other models).

The 800 MHz antenna provides better performance in the 800 MHz band than the stock antenna.

The Interface Cable allows the scanner to be connected to a personal computer.
| | |
| --- | --- |
| | This cable works with the following scanners: PRO-2053 (20-466), PRO-2067 (20-196), PRO-92 (20-522), PRO-93 (20-523), PRO-95 (20-525), PRO-96 (20-526) and PRO-99 (20-515) (download only). |
---
CPU Version 1.1
CPU Version 1.3
Comments
Immediately after power on.
Backlight is on before any text appears on the screen.
Reported boot version remains 1.0, although the behaviour of the backlight has changed.
Startup screens.
CPU Version upgraded from 1.1 to 1.3.
DSP Application upgraded from 1.1 to 1.2.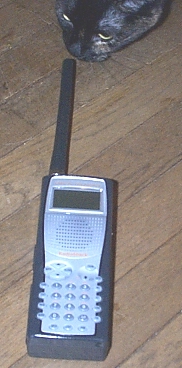 A local feline isn't quite sure what to make of the PRO-96.