This article first appeared in the July 2002 issue of Monitoring Times.
AOR's APCO-25 DECODER
As more state and local public safety agencies move to digital trunked radio systems, the demand for scanners that can decode digital transmissions continues to increase. The most common digital system being fielded in the United States is based the APCO (Association of Public-Safety Communications Officials International, Inc.) Project 25 suite of standards. At the beginning of this year Uniden announced a pair of scanners, the BC250D handheld and BC785D base/mobile, that will accept a decoder card and deliver APCO-25 voice transmissions. These two scanners are expected to be available at the end of the year, but by that time there may be another option.
AOR APCO-25 Decoder
At the 2002 Dayton HamVention in May, AOR unveiled a working prototype of their new APCO Project 25 decoder. Dubbed the ARD5000, this device takes a 10.7 MHz intermediate frequency (IF) signal from a receiver and provides decoded audio from a built-in speaker. The prototype also has a data-out jack that is programmed to provide a serial data stream from the received signal. A front panel display shows received signal information and allows the selection of different operating modes. At the show a spokesman indicated that the unit had been in development for about six months and that it would be another six months or so until it was in production. The final form factor is still subject to change, but will probably end up being roughly the size of a hardback textbook. No decisions on price had been made yet, either.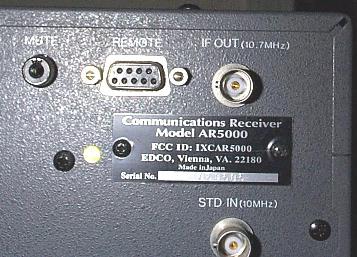 Many high-end receivers, including the AOR AR5000, ICOM R8500 and Yaesu VR-5000, provide a 10.7 MHz IF output. This output comes from an intermediate point in the receiving process and has a relatively wide bandwidth, allowing for easier signal demodulation via a DSP (Digital Signal Processor). This output is often used in conjunction with spectrum display units but not typically for data decoding. The AR5000, for instance, can provide as much as 10 MHz worth of bandwidth (everything from 5 MHz below the tuned frequency to 5 MHz above) out of the 10.7 MHz IF connector. Since a typical public safety channel will be 12.5 kHz or 25 kHz wide, as many as 800 channels can be simultaneously delivered to a decoder without retuning the receiver. The DSP in AOR's decoder takes the wideband signal and digitally selects the individual channel of interest, decoding the APCO-25 signaling and directing the audio to an IMBE (Improved Multi-Band Excitation) vocoder. See the June 2000 Tracking the Trunks column or my website for more details about APCO-25 voice signals.
The ARD5000 is designed to be a "black box" decoder primarily for government, public safety, and the news media. AOR anticipates that government agencies will also have the ability to add their own cryptographic keys to the unit, enabling it to internally decrypt voice and data traffic.
South Dakota
Hi Dan,

I'm in South Dakota and my state is investing $30 million in a Motorola trunked system on a 150 MHz frequency. Officials claim that because of the frequency, we won't have the same problems other states and cities have experienced. Do you agree?
First, some background. Last year South Dakota contracted for a statewide Motorola SmartZone system to operate in the 150 MHz (VHF, or Very High Frequency) band, controlled out of the state capitol, Pierre. The state hopes to replace the patchwork of incompatible radio systems that are currently operated by different state and local public safety agencies. South Dakota has experienced first-hand the problems that arise during an emergency when police, fire and medical personnel can't talk to each other. A large tornado four years ago and recent forest fires have all shown that a common, compatible radio system is needed.
The new system is designed to handle up to 48,000 users and 2,000 talkgroups through more than 30 repeater sites. Besides voice and control channels, each site will also have a channel dedicated to digital data operating at 9600 bits per second (bps). The anticipated use for this channel will be the standard mobile data terminal (MDT) functions, such as driver's license and vehicle registration checks.
A mutual aid channel will also be available at each site, although it will operate in conventional mode rather than trunked. This will allow existing 150 MHz radios to access each repeater when necessary.
The State will maintain each of the repeater sites and the central trunking controller in the capitol. Each participating agency will be responsible for the maintenance and repair of their own mobile and portable radios as well as any dispatch consoles and connection equipment.
Motorola expects that 95 percent of the state can be covered, although the governor's office is saying 90 percent. The existing Department of Transportation system has several gaps, but the addition of more than a dozen new sites has given the state confidence that most areas will have mobile coverage from vehicle-mounted radios. Coverage for portable (handheld) radios may be more of challenge since they operate with lower transmit power and are used inside buildings and other structures that may block reception.
An option for additional portable coverage would be an extender radio installed in a vehicle. This device will allow a UHF (450 MHz) or 800 MHz portable radio to be used on the 150 MHz trunked system by receiving transmissions from the portable and rebroadcasting them on the 150 MHz system, and similarly receiving 150 MHz signals and transmitting them out to the portable. Typical ranges for extender radios can be up to one mile.
Other cities and states have experienced problems with their new 800 MHz trunked radio systems. The state of Delaware, the cities of Honolulu, Hawaii and Washington, D.C., as well as others have experienced a number of potentially life-threatening failures, many of which seem to be related to lack of geographic coverage. In a typical scenario, radio users in urban areas are unable to communicate when inside buildings or other places where radio signals might be blocked.
All other things being equal, a system operating at 150 MHz should have better penetration into buildings and other structures than 800 MHz, but that's not the only factor necessary for an effective radio system. Other cities and states have also had problems stemming from inadequate user training, lack of sufficient system testing, bugs in the trunking control software and cost-cutting measures that affected performance. Any new system is going to have problems - the issue will be whether South Dakota has the money and the patience to plan for resolving each of the problems as they occur.
Nevada
The State of Nevada operates a trunked radio system in the 150 MHz band, primarily for the Highway Patrol, the Fire Marshall, and state executives. It's a Motorola Type II system with 16 repeater sites clustered near Las Vegas and Reno. Outside of these areas the system appears to be conventional operation on three frequencies. Trunked frequencies include 151.055, 151.100, 151.085, 151.115, 151.130, 151.145, 151.265, 151.400, 153.920, 154.025, 154.310, 154.755, 154.695, 154.920, 155.460, 155.565 and 155.850 MHz. Reno dispatch is using talkgroup 20816 (hex 515). Las Vegas has two dispatch talkgroups, one for north of Sahara Avenue (16048, hex 3EB) and another for south (16080, hex 3ED).
Several Las Vegas hotels and casinos also operate conventional systems in the 150 MHz band.
Ohio
By the 4th of July holiday more than a dozen Ohio counties should be linked into the new statewide Multi-Agency Radio Communications System (MARC), a $328 million APCO-25 compliant trunked radio system operating in the 800 MHz band. Voice and telephone interconnect will be served from 201 repeater sites, and a separate 800 MHz data system will connect in-vehicle laptop computers to state and national databases. Police cruisers will also be equipped with Global Positioning System (GPS) receivers and report their exact position via automatic vehicle location (AVL). The system is planned to cover more than 97 percent of the state and is expected to be complete in about two years.
Like South Dakota, Ohio currently has a patchwork of incompatible radio systems, leading to difficulties in communication during disasters and other mutual aid emergencies.
Besides the Ohio State Police and various county police and fire departments, other agencies using the system will include the State Fire Marshall, Natural Resources and Environmental Protection, Rehabilitation and Correction (prisons), Public Utilities and the Ohio Turnpike Commission. One good source for detailed information about this complex system is on Tom Swisher's (WA8PYR) web site at www.qsl.net/wa8pyr/marcs.htm.
Michigan
If you're in the Upper Peninsula of Michigan and you see a sport-utility vehicle full of radio gear driving slowly down the road, it may be part of the State Police communications division testing the coverage and audio quality of their new 800 MHz statewide trunked radio system. For these tests the UP has been divided into two-mile grid squares, and the SUV traverses public and private land in each square checking reception to the nearest repeater site.
The entire state is scheduled to be in operation by September.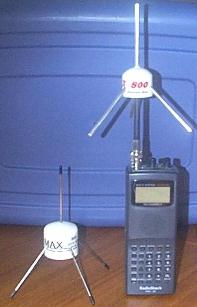 Antennas
Getting a good signal into your scanner is the first step in successful monitoring. In many cases the "rubber duckie" antenna that comes with a handheld scanner is a rather poor performer. Third-party replacements can often improve reception and help pull in weak and distant transmissions. I'd be interesting in hearing from readers about antennas that they've found to work better than the standard issue, but in the meantime here are a few to mention:
The Diamond RH77CA is a 15-inch antenna with very good performance in the 150 MHz and 450 MHz bands, and has a fair amount of gain up through 900 MHz. It lists for $24.95, although a little shopping around can save you a few dollars. This antenna has received a number of good reviews and is recommended by many scanner users.
Radio Shack recently began selling an improved 9-inch antenna, catalog number 20-034, for $16.99. Reports indicate that a new shipment of these antennas outperforms the old ones, with excellent performance in the 800 MHz band.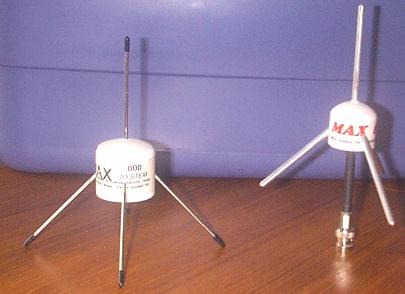 For monitoring in the 800 MHz band I've used Max 800 antennas from Max Systems. They work very well in the 800 MHz and 900 MHz bands, which is what they're designed for, but not well on lower frequencies. The portable antenna retails for about $30.
Optoelectronics sells several antennas including the RD800, which is designed for solid performance between 500 MHz and 1000 MHz (1 GHz). They also sell the DB32, which is a low-profile 3-inch VHF and UHF antenna that is much less noticeable than the longer antennas but has somewhat diminished gain. Optoelectronics is also working with Comet Antenna and will soon offer an antenna that will have good performance beyond 1 GHz, primarily for use with their Digital Scout. I'll have more on that in a future column.
Let me know what your antenna and other equipment choices via electronic mail at dan @ signalharbor.com. My website at http://www.signalharbor.com also contains links and further information about scanning and trunked radio systems. Until next month, happy monitoring!