This article first appeared in the March 2002 issue of Monitoring Times.
DIGITAL MONITORING IN SIGHT
Our hobby received some good news this past January at the Consumer Electronics Show in Las Vegas. At the show Uniden unveiled a pair of long-awaited scanners that promise to be capable of monitoring digital transmissions from APCO Project 25 radio systems.
For those of you new to this sort of monitoring, Project 25 (P-25) is a set of standards put forward by the Association of Public-Safety Communications Officials International, Inc. (APCO) that define how radios and base stations should transmit and receive voice and data messages. These standards include the requirement that voice traffic be sent in digital form rather than the older, more common analog methods. Many municipalities across the country have been replacing their old analog radio equipment with new digital P-25 systems, and in the process have locked out the monitoring public due to a lack of digital-capable consumer scanners.
Uniden hopes to be first to market with two scanners that can monitor these digital P-25 radio systems. The Bearcat BC250D is a handheld unit with all of the features and capabilities of the current production BC780XLT. The Bearcat BC785D is the base and/or mobile version with a similar feature set. Each scanner is slated to have 1,100 channels in 10 banks and provide a frequency range of 25 MHz to 1300MHz (with the usual cellular telephone frequency gaps). Both scanners are expected to have a retail price of about $350 and are scheduled to be on dealer shelves in "late 2002." Given the delays in the introduction of the 780XLT, it will be interesting to see how close Uniden comes to achieving this deadline.
By themselves, the scanners will monitor conventional and trunked analog systems. The new feature on each of these scanners is a slot that will accept an external electronic "card." In order to process the P-25 transmissions, a BCi25D card must be inserted into the scanner. This add-on card will work in either scanner and is expected to retail at around $330. This method of flexible radio capability is reminiscent of the OptoElectronics OptoCom receiver, which was designed to accept additional hardware modules, and is similar in concept to the add-on modules available for some personal digital assistants such as the Handspring Visor.
For Uniden, this card will allow them to manufacture and sell the P-25 capability separately from the 250D and 785D scanners themselves. Since the method used in P-25 for digitally compressing and encoding voice traffic is patented by Digital Voice Systems, Inc., royalty payments from Uniden are tied only to the BCi25D card, not to each scanner. Looking ahead, this "slot" feature may also open the door for other digital add-ons, such as a card capable of processing other digital systems. In an ideal world, Uniden would release the specification for the slot, allowing third parties to develop their own add-on cards. No word from Uniden yet on these future possibilities.
Once again it worthwhile to emphasize that these scanners will not be able to decode any encrypted voice traffic, just the standard P-25 signals. Departments and agencies that are already encrypting their traffic will remain out of reach for hobby scanner listeners. Some municipalities are currently under the illusion that their signals are immune from monitoring simply because they are in digital form, and it will be interesting to see which ones begin to purchase encryption equipment as these scanners reach the consumer market.
ScannerMaster
Hi Dan,

In your September 2001 column you wrote that ScannerMaster had demonstrated a circuit board that would allow a BC780XLT to receive digital transmissions at the APCO convention in Boston last year.

I found their website and e-mailed them for more information. I got no response. I e-mailed them again about 6-8 weeks later and got no response and also noticed that their web site had not been updated at all. To your knowledge, is ScannerMaster still in business?

Randy
ScannerMaster is still in business, their primary focus being the publication of the Police Call series of frequency guides found in almost every Radio Shack store. Rich Barnett edits the guides and has been involved in the hobby monitoring business for many years, so I would be surprised if he closed up shop. In addition to the guides, ScannerMaster is currently marketing a number of accessories for various Uniden scanners.
I have not received any further reliable information regarding their P-25 digital decoder board, but they have posted the following message on their Internet website at www.scannermaster.com:
Digital Decoder Board

We are not releasing at this time what scanners will be capable of accepting a digital board, nor can we say with any certainty whether existing scanners could be modified to take a board or whether or new model will have to be purchased. Prices and release dates have also not been set. We understand the need to offer digital decoding in both a base/mobile and handheld configuration, but it is likely any first version will be for base/mobiles. Note that this is an extremely complex project and we prefer not to make any promises in regard to this product at this time.

We can say that any digital decoding board will work with APCO-25 systems, both conventional and 3600 baud control channel trunked systems. We cannot make any statements as to 9600 baud systems at this time, although any board that decodes 3600 will allow you to at least listen to 9600, if not track. Of course encrypted systems will never be trackable. Whether an APCO-25 board will work on other systems, such as ProVoice ® is unknown.

We understand the high-level of interest in this product and wish we could provide more details, but because of continuing development, contractual obligations, as well as other factors (including the fact that we don't want to make promises or timetables we may not be able to keep), this is all the information we can offer at this time. If you have further questions or comments, feel free to e-mail us, but be advised we may not respond as there is nothing more to say at this time. You may also feel free to contact the scanner manufacturers directly to inquire whether they have any news on digital scanner development.
400 MHz Trunking
While we wait for Uniden and ScannerMaster to finish their product development cycle, keep in mind that there are a lot of trunked radio systems that are analog and can be monitored today, sometimes in unusual places. For instance, even though most public safety trunking systems operate in the in the 800 MHz band, there is a significant amount of activity in the 400 MHz band.
Historically, the majority of trunked 400 MHz users have been military installations using either Motorola or EDACS systems. In general the nationwide military frequency assignments can be split up into four groups of five frequencies, each frequency in a group separated by 800 kHz as follows:
Group 1
406.350
407.150
407.950
408.750
409.550

Group 2
406.750
407.550
408.350
409.150
409.950

Group 3
406.550
407.350
408.150
408.950
409.750

Group 4
406.950
407.750
408.550
409.350
410.150

The Bearcat BC-245XLT and BC-780XLT as well as the PRO-92 and PRO-94 scanners are all able to trunk track without difficulty in the 400 MHz band.
Ft. Irwin, California
The U.S. Army's Fort Irwin, located in the Mojave desert near Barstow, California, is probably best known as the home of the National Training Center (NTC), a simulated battleground where Army units come to train in as realistic a setting as possible. The deployment and operation of these units at the NTC is called a "rotation" and lasts 28 days. During this period the unit "fights" a full-time professional opposing force, testing new tactics and equipment.
The NTC covers approximately 1,000 square miles and is well away from any major centers of population, allowing for live fire exercises, close air support, and a variety of electronic warfare operations.
NTC operates a 25-channel EDACS system in the 400 MHz band, although I've received reports that some radios are using AEGIS digital voice rather than analog. Some of these radios are apparently in use on board UH-1 Huey and UH-60 Blackhawk helicopters and with specially equipped soldiers.
Interestingly, NTC rules prohibit the use of Family Radio Service (FRS) radios and scanners for training or for use during the rotation, although soldiers have been allowed to use them on post if they're not engaged in operations. Commanders also discourage the use of cellular telephones during operations due to the ability of the opposition force to intercept and make use of information discussed during such calls.

Monitoring Fort Irwin will present new challenges in the near future since a contract was recently awarded to upgrade the NTC radio infrastructure. Over the next year the existing cellular telephone network for the exercise areas, first installed by Motorola, will be replaced by a trunked radio system. Later a new system based on Tetrapol, a digital trunked radio system popular in Europe, will provide observers and analysts with voice and data communications across the facility. Emergency and maintenance personnel will also be part of the system, which is expected to eventually support upwards of 10,000 users.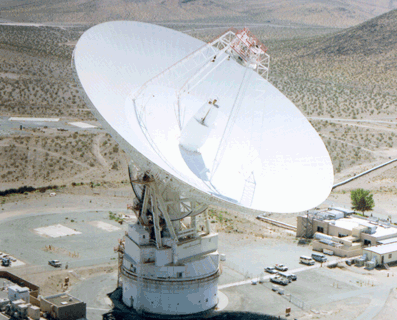 Of interest to radio aficionados is the nearby Goldstone Tracking Station, part of the National Aeronautics and Space Administration (NASA) Deep Space Network (DSN). Although not as large as the Arecibo dish in Puerto Rico, the Goldstone main antenna has a diameter of 70 meters (about 230 feet) and is fully steerable. It can be linked to sensitive receiver equipment or used to send messages to deep space via a 500-kilowatt transmitter. Besides communicating with space probes, the dish is also used for radio astronomy. Monitor 314.600 MHz for possible NASA traffic related to Goldstone.
Wright-Patterson Air Force Base, Ohio
The Wright-Patterson Air Force Base near Dayton, Ohio, operates a Motorola Type II system for base operations. Known by locals as "Wright-Pat," the on-base museum rivals the Air and Space Museum and has been a common sightseeing stop for attendees of the annual Dayton HamVention held every May.
This system is reported to use the following frequencies: 406.350, 406.550, 407.150, 407.350, 407.500, 407.950, 408.750, 408.950, 409.550, 409.750, 409.900 and 409.950 MHz.
The base frequency is 406.350 and the offset is 50 kHz. Talkgroups of interest include:
| | |
| --- | --- |
| 176 | Crash |
| 272 | Crash |
| 59 | Medical |
| 976 | Aircraft Fueling |
| 1008 | Flight Operations |
| 1040 | Security (Car-to-Car) |
| 8016 | Security 1 |
| 8048 | Security 2 |
| 8080 | Security 3 |
| 11312 | Flight Operations |
While you're in the area, be sure to monitor the control tower on 126.9 MHz and ground control on 121.8 MHz. Remember that aviation radio transmissions are almost always in AM (amplitude modulation) mode.
Kings Bay, Georgia
The Naval Submarine Base at Kings Bay, Georgia is home port to nearly a dozen Trident II ("boomer") ballistic missile submarines as well as a number of shore commands. On base is a Motorola Type II system with control channels apparently switching between 407.950, 408.750 and 409.550 MHz. Voice traffic primarily on 406.750, 407.550, 408.350, 409.150 and 409.950 MHz. Telephone interconnect is reported on two frequencies, 406.350 and 407.150 MHz.
I'd be very interested to hear what trunked radio systems you're monitoring, especially if they're in the 400 MHz band, so send me e-mail at at dan @ signalharbor.com. More information about these and other radio topics is available on my website at www.signalharbor.com. Until next month, happy monitoring!