This article first appeared in the November 2002 issue of Monitoring Times.
THE QUEST FOR INTEROPERABILITY
One of the lessons learned, or re-learned, after the September 11, 2001, attack on the Pentagon is the need for interoperability. As we saw with the Oklahoma City bombing and other events requiring multiple public safety agencies, the ability to communicate quickly and efficiently is vitally important to save lives and property.
First on the scene after a hijacked aircraft crashed into the Pentagon were units from four nearby fire departments: Arlington and Fairfax Counties, Virginia, and the cities of Alexandria, Virginia and Washington, DC. Because of earlier regional planning, mutual aid agreements and training, each of these departments used radio gear that could work with each other and experienced little difficulty in establishing communications. First responders already had Arlington County frequencies and talkgroups programmed in their radios, so they could immediately communicate with central dispatch and the on-scene commander.
However, when state and federal agencies and other second responders eventually arrived, things got much more complicated. These people brought radios that were not able to work with the existing fire department systems. As an interim solution, Motorola brought in 150 new radios, borrowed from a local warehouse where they were awaiting delivery to Montgomery County, Maryland. These radios were programmed and distributed to key members of the second responder agencies.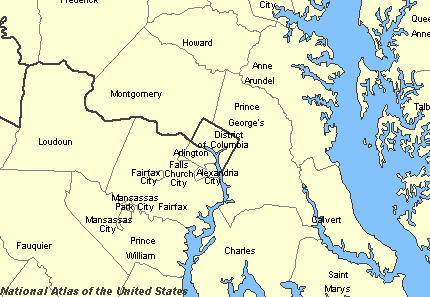 In the end, more than 900 individuals from 50 different agencies took part in the rescue, containment, and recovery operations.
The Arlington County trunked 800 MHz system served as the initial radio network for responders. The Motorola network is designed to handle 1,750 radios and has a daily average activity of about 500 radios. On the day of the attack the loading was about 900 radios. No system busy messages were received.
It is interesting to note that several after-action reports concluded that commercial networks simply couldn't handle the large number of call attempts made during such an event. At the Pentagon, the only reliable method of communications for rescuers was their own public safety radio system. Call volume on the local cellular carriers more than doubled -- most local wireless systems were operating at maximum and many call attempts were rejected. The one exception to this at the Pentagon was Nextel's Direct Connect, an immediate two-way "walkie-talkie" feature that allowed Arlington County to communicate directly with the Federal Bureau of Investigation. Because Direct Connect does not rely on commercial telephone service, it was relatively unaffected by the overloaded telephone network.
The success of the first responders in establishing communications, and the difficulties experienced by the subsequent responders, emphasized a lesson that was learned after the airliner crash in 1982 and the Oklahoma City bombing in 1995. Public safety two-way radios need a common set of standards and must be able to work with each other with very little effort. This drive for interoperability is slowly working its way from local groups up to the federal level.

Federal Project 25 Network
In September of this year the Department of Justice and the Department of the Treasury announced six companies had been awarded contracts under a $3 billion program to provide APCO Project 25 equipment to federal agencies. Three of the companies are familiar to Monitoring Times readers: E.F. Johnson Company, M/A Com Private Radio Systems, and Motorola. (The other three companies are Daniels Electronics, based in Victoria, British Columbia; Datron World Communications of Vista, California; and Thales Communication from Clarksburg, Maryland) The contract has a five-year duration and covers portable and mobile radios, repeaters and base stations, and additional support equipment, including encryption modules and key loaders.
Federal agencies are looking for the same types of capabilities that make Project 25 systems attractive to state and local agencies: interoperability, efficient use of radio spectrum, and the ability to purchase equipment in a competitive marketplace.
The Departments of Treasury and Justice are working to create a single radio network for seven federal law enforcement agencies: Bureau of Alcohol, Tobacco and Firearms, Customs Service, Drug Enforcement Administration, Federal Bureau of Investigation, Immigration and Naturalization Service, United States Marshals Service and the Secret Service. The hope is that common equipment and standards will make it easier for these agencies to work together. As cooperation and communication increase, perhaps infighting, information hoarding and interagency rivalries will decrease.
Under the terms of the contract, other agencies will also be able to purchase equipment.
Project 25 began in 1989 and has produced a common set of technical standards agreed to by public safety radio users and manufacturers. A number of federal agencies have backed Project 25 for future radio systems, including the Interior, Justice and Treasury departments as well as the Federal Emergency Management Agency.
A number of state and local governments have already begun the transition to Project 25 systems, as we've discussed in previous Tracking the Trunks columns. I welcome input from readers who are monitoring known or suspected Project 25 systems. Often articles in the local newspaper will mention a new radio system, or a scanner listener will hear what sounds like digital noise in the 450 or 800 MHz bands. If you happen to come across any of these new digital systems, please write and let me know!
Colorado
The State of Colorado is working to replace their patchwork of VHF and UHF radio systems with a single statewide 800 MHz network. The goals of the $78.9 million project are to make state and local agencies interoperable at the equipment level, improve radio coverage across the mountainous state, and to share costs among all of the participants. When finished the system is expected to support as many as 25,000 radios using 125 towers in different parts of the state. At that time the state plans to remove the 150 MHz system they currently operate. The equipment build-out of the program was originally divided up into six phases.
The first phase was a pilot deployment in the metro Denver area, in all or parts of Arapahoe, Denver, Douglas and Jefferson counties. Phase II continued the Denver build-out by adding coverage in Adams, Boulder, Clear Creek and Gilpin counties.
Last year saw the completion of phase three, with additional coverage in eastern and northeastern portions of the state, including Cheyenne, Elbert, Kit Carson, Larimer, Lincoln, Logan, Morgan, Phillips, Sedgwick, Yuma, Washington and Weld counties.
Phase four, now only a few months away from being done, centers on southeastern Colorado in the counties of Baca, Bent, Chaffee, Crowley, Custer, El Paso, Fremont, Huerfano, Kiowa, Las Animas, Otero, Prowers, Pueblo and Teller.
Phase five is focused on northwestern Colorado, including Eagle, Garfield, Grand, Jackson, Lake, Mesa, Moffat, Park, Pitkin, Rio Blanco, Routt and Summit counties. This was supposed to be completed by the end of the year, but the state has put a hold on the required $15 million due to the poor economy.
The final phase adds the southwestern area of Colorado, with the San Luis Valley and the counties of Alamosa, Archuleta, Costilla, Conejos, Detla, Dolores, Gunnison, Hinsdale, La Plata, Mineral, Montezuma, Montrose, Ouray, Rio Grande, Saguache, San Juan and San Miguel.
Originally scheduled to be complete by 2005, lack of state funding will delay the final phase until at least 2006. At present the State Patrol, Departments of Corrections, Wildlife and Transportation and a handful of local police and sheriff's departments are on the system, with a total of about 9,000 radios.
At least two major jurisdictions have so far declined to join the network and plan to continue using their existing radio systems. The Boulder County Sheriff's Department feels that the state network doesn't have enough coverage in the mountain areas of their county. Denver already has an operational communications network and does not plan to switch over to the state network.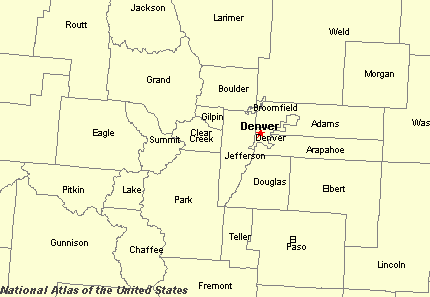 Denver, Colorado
Denver, both the city and county, currently share an EDACS system on the following frequencies (in logical channel order):
854.9875, 855.4875, 855.9875, 856.4875, 857.2375, 857.7375, 858.4875, 859.2375, 859.7375, 860.4875, 855.2375, 855.7375, 856.2375, 856.7375, 857.4875, 858.2375, 858.7375, 859.4875, 860.2375, 860.7375, 866.1875, 866.5875, 867.1250 and 867.6500 MHz.
Police talkgroups
529 04-021 District 1 (Northwest) Dispatch
530 04-022 District 1 Car to Car
545 04-041 District 2 (North Central) Dispatch
546 04-042 District 2 Car to Car
561 04-061 District 3 (Southeast) Dispatch
562 04-062 District 3 Car to Car
577 04-081 District 4 (Southwest) Dispatch
578 04-082 District 4 Car to Car
593 04-101 District 5 (Northeast) Dispatch
594 04-102 District 5 Car to Car
609 04-121 District 6 (Downtown) Dispatch
610 04-122 District 6 Car to Car
512 04-000 All Police Groups ("All Call")
Fire talkgroups
785 06-021 Fire Dispatch
786 06-022 District 2 Fireground
787 06-023 District 3 Fireground
788 06-024 District 4 Fireground
789 06-025 District 5 Fireground
790 06-026 District 6 Fireground
791 06-027 District 7 Fireground
792 06-030 Denver International Airport (Patched)
Denver International Airport operates a EDACS trunked system in the 800 MHz band. Frequencies, in logical channel order, are 855.2125, 855.7125, 856.4625, 857.2125, 857.7125, 866.3625, 866.6625, 866.9375, 867.5375 and 867.8375 MHz.
Also at the airport is a Motorola Analog trunked system operated by United Airlines on the following frequencies: 853.4625, 854.8375, 856.8125, 856.8875, 857.8875 and 858.8875 MHz. Control channels have been noted on 859.8875, 860.8125, 860.8875 and 860.9125.
As you're programming your scanner, remember to include the national frequency assignments: Calling channel of 866.0125 MHz and four tactical channels, 866.5125, 867.0125, 867.5125 and 868.0125 MHz. Also, Colorado statewide tactical is 868.7875 MHz.
Aurora, Colorado
Back in July the city of Aurora, Colorado, contracted with M/A-COM to install an $11 million EDACS (Enhanced Digital Access Communications System) trunked radio system for use by all city departments. Police, fire, emergency medical service, public works, transit, parks and recreation will make use of the system, as will the local airports.
Four repeater sites will provide coverage for the city.
Currently, Aurora operates a Motorola Type 1 system on the following frequencies: 856.9875, 857.7625, 857.9375, 857.9625, 857.9875, 858.7625, 858.9375, 858.9625, 858.9875, 859.7625, 859.9375, 859.9625, 859.9875 MHz. Control channels have been noted on 860.7625, 860.9375, 860.9625 and 860.9875 MHz.
You can use pre-programmed Fleet Map setting E1, or directly with the following block settings: B0: S-0, B1: S-0, B2: S-0, B3: S-4, B4: S-4, B5: S-4, B6: S-4, B7: S-0.
Talkgroups:
00016 Police Dispatch (West)
00048 Police Dispatch (East)
00080 Police Services (Clearance, etc)
00112 Police Tactical, West Primary
00144 Police Tactical, East Primary
00176 Police Tactical, West Secondary
00208 Police Tactical, East Secondary
03216 Fire Dispatch
03280 Fireground Tactical
03312 Fireground Tactical
03696 Med-Link to Aurora South Hospital
03728 Med-Link to Aurora South Hospital
Uniden radios certified
Uniden's upcoming Project 25 scanners, the handheld BC250D and the mobile/base BC785D, have received certification from the Federal Communications Commission (FCC). With this in place, Uniden is legally able to offer them for sale. Uniden expects both of these scanners, plus the plug-in Project 25 card (BCi25D) to be shipping to dealers by late November.
Uniden also announced a software program called E-Scanner that will allow owners to program frequencies and talkgroups into scanners with data ports.
That's all for this month. I welcome your electronic mail about Project 25, Uniden scanners, or any other radio topic at dan @ signalharbor.com, and as always more information is available on my website at www.signalharbor.com. Until next month, happy monitoring!