This article first appeared in the February 2003 issue of Monitoring Times.
Tropical Trunking: Puerto Rico and Florida
With winter still covering much of the continental United States, this month we open the mailbag and start off with a letter from Puerto Rico. For those readers unfamiliar with this Caribbean island, Puerto Rico is a U.S. Commonwealth with a population of nearly four million people located about 1,000 miles southeast of Miami. Besides numerous trunked radio systems and a military listening post, Puerto Rico is home to the world's largest radiotelescope, located near the town of Arecibo.
Puerto Rico
Hi!

Let me first congratulate you for your website and also for your recent article on MT. Here in Puerto Rico there are no APCO-25 radio systems operating, but recently I was monitoring a frequency that was used by the Border Patrol and it looks like the have switched to digital. I compared the sound with the sound samples that are available on the web and the sound is the same. I have not heard of any Federal agencies that are APCO-25, do you have any information of this?

Thanks...


Rafael
Puerto Rico does not currently have any municipal public safety agencies using APCO Project 25 (P-25) systems, however, it would not be surprising to hear a federal system down there.
As I reported in this column last November, the Department of Justice and the Department of the Treasury announced contract awards under a $3 billion program to provide APCO Project 25 equipment to federal law enforcement agencies. This Federal Project 25 Network will provide radio equipment and service for the Bureau of Alcohol, Tobacco and Firearms (BATF), the Customs Service, the Drug Enforcement Agency (DEA), the Federal Bureau of Investigation (FBI), the Immigration and Naturalization Service (INS), the Secret Service and the U.S. Marshals Service.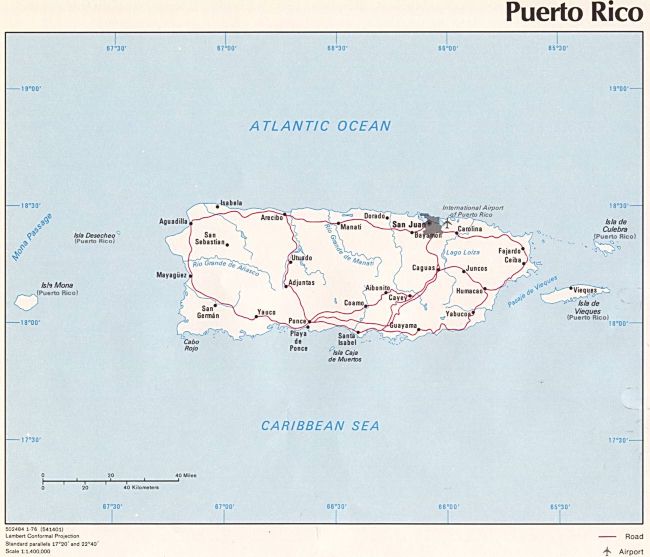 The INS has been involved in Project 25 systems for many years. They were the first to install and operate an encrypted P-25 voice and data system, put in place in May of 1998. Their Encrypted Voice Radio Program (EVRP) currently supports more than 32,000 radios and 1,400 repeater sites. Although EVRP uses the P-25 common air interface (CAI), it also uses Rapid Access Trunking (RAT) - a different method that does not require a separate control channel.
The INS has an operational EVRP in Puerto Rico, in what the INS refers to as their San Juan district. Unfortunately for scanner listeners, the system uses DES (Data Encryption Standard) encryption to protect the traffic channel contents.
Despite the lack of open P-25 systems, Puerto does have a few analog radio networks that are accessible.
The Puerto Rican government operates a M/A-COM (formerly Ericsson) LTR-MultiNet trunked radio system in several municipalities across the island. Towns and the associated frequencies (in logical channel order) are as follows:
Aguada 856.7125, 857.7125, 858.7125, 859.7125 and 860.7125 MHz
Aquas Buenas 856.4625, 857.4625, 858.4625, 859.4625 and 860.4625 MHz
Bayamon 854.9875, 855.2375, 855.4875, 855.7375, 855.9875, 856.7125, 856.7625, 857.7625, 858.7625, 859.7625 and 860.7625 MHz
Guayama 856.4875, 857.4875, 858.4875, 859.4875 and 860.4875 MHz
Gurabo 855.2125, 855.4625, 856.2625, 856.7375, 856.9375, 857.2625, 857.7375, 857.9375, 858.2625, 858.7375, 858.9375, 859.2625, 859.7375, 859.9375, 860.2625, 860.7375 and 860.9375 MHz
Jayuya 856.2625, 856.7375, 857.2625, 857.7375, 858.2625, 858.7375, 859.2625, 859.7375, 860.2625 and 860.7375 MHz
Luquillo 856.2375, 857.2375, 858.2375, 859.2375 and 860.2375 MHz
Maricao 856.4375, 857.4375, 858.4375, 859.4375 and 860.4375 MHz
San Juan 866.1500, 866.1750, 866.6625, 866.7250, 867.2250, 867.3875, 867.6625, 867.8875, 868.1375, 868.4125, 868.6375, 868.9125, and 868.9375 MHz
Santurce 856.2125, 857.2125, 858.2125, 859.2125, 860.2125 MHz
The Puerto Rico Electric Power Authority operates an EDACS system in a number of areas:
Cayey 854.9125, 855.1875, 855.4125, 855.6625 and 855.9375 MHz
Luquillo 856.3125, 856.4125, 857.3125, 857.4125, 858.3125, 858.4125, 859.3125, 859.4125, 860.4125, 860.4125 MHz
Maricao 856.4125, 857.4125, 858.4125, 859.4125 and 860.4125 MHz
Orocovis 856.2875, 857.2875, 858.2875, 859.2875 and 860.2875 MHz
Ponce 855.3625, 856.3625 and 857.3625 MHz
Rio Piedras 855.3625, 856.3625, 857.3625, 858.3625, 859.3625 and 860.3625
Rincon 856.3125, 857.3125, 858.3125, 859.3125 and 860.3125 MHz
Salinas 858.3625, 859.3625 and 860.3625 MHz
Villalba 855.3875, 856.3875, 857.3875, 858.3875, 859.3875 and 860.3875 MHz
The Department of the Navy has an installation near the town of Ceiba, on the eastern end of the island. Roosevelt Roads Naval Station operates a five-channel EDACS system in the UHF band, but I do not have any frequency listings or talkgroups for it.
Future Uniden Product?
Hi Dan,

Enjoy the info you present on Digital Modulation and products to monitor same in MT.

Re Dec. 2002, page 73 - the new Bearcat 785D scanner with BCi25D digital card is not capable of monitoring ASTRO (et al) digital transmissions. Per your article on page 18, the scanner and card with 3600 baud rate does not support the 9600 baud rate for the ASTRO system.

The Connecticut State Police are using the ASTRO system with digital voice and recently added MDTs. Do you anticipate Uniden will eventually produce a new plug in card for the 785 scanner that will accommodate 9600 baud, and/or 3600 and 9600? If so, is there a schedule date for product release?

Thanks,

Dave
This is a common question on Internet discussion boards. Uniden's official position is presented in this statement:
APCO P-25 digital scanner will monitor three of the four types of APCO Project 25 systems: Conventional, Trunked at 3600 baud and Mixed Mode at 3600 baud. The APCO P-25 trunked system at 3600 baud is the most common P-25 system in operation today.

There are a few agencies using the APCO P-25 trunked system operating at 9600 baud deployed in the states of Michigan, Colorado, Minnesota, and the city of Austin, Texas. The ability to monitor these pure digital systems is still in development. Therefore, the first generation of APCO P-25 scanners, BC250D, BC785D, and BCi25D will not monitor these systems.

Rest assured that the BC250D and BC785D are just the first in a family of Bearcat digital capable scanners to be produced by Uniden. As we continue to grow the family in this series, so will their coverage of various other digital signal systems.

Jennifer Ainsworth
Media & Trade Show Manager
Uniden America Corporation
The suspicion is that the scanner itself performs the trunk-tracking duties while the BCi25D card only converts the transmitted digital voice into an audible analog signal. If that is true, a new scanner (or an update to the scanner firmware) would be required to trunk-track 9600-baud P-25 systems.
So, to answer your questions, it appears Uniden will have a future product that can trunk track the 9600-baud P-25 control channel, but there is no schedule for when such a scanner would be available.
Philadelphia, Pennsylvania
Philadelphia continues their transition to a new $51 million digital P-25 system, funded though a telephone surcharge of $1 per customer per month as well as additional tax money from the Philadelphia International Airport and the Water Revenue Department.
While most other cities have taken a generally positive and enlightened view toward scanner listeners, the Philadelphia radio system decision-makers have made public their distrust and contempt for anyone who might want to overhear their conversations. This attitude was recently expressed by Deputy Police Commissioner Charles Brennan, who was quoted as saying, "We have 600 radios that are encrypted, the rest of the stuff you should be able to hear. However, if it were up to me, I would encrypt everything. The police do not exist for people's amusement."
Even more incredible is Philadelphia's distinction of being the only city in the United States to encrypt their fire department transmissions.
The city's radio network is actually made up of two different systems, operating from ten towers. Interestingly, there are no in-vehicle radios -- every user has a portable radio, although police cruisers will continue to operate mobile data terminals.
System One: 866.2875, 866.3625, 866.8375, 867.0625, 867.0875, 867.5625, 867.5875, 867.8625, 868.0625, 868.0875, 868.2875, 868.5875, 868.7875 and 868.8375 MHz.
Talkgroups:
3792 Fire, North (simulcast on 154.145)
3824 Fire, South (simulcast on 154.235)
System Two: 866.1000, 866.3375, 866.5875, 866.6875, 866.7875, 866.8125, 867.1125,
867.3500, 867.8125, 867.8375, 867.9375, 868.3125, 868.3375 and 868.5625 MHz.
Talkgroups:
16 Police, Far Northeast (simulcast on 453.40 MHz)
48 Police, Northeast (simulcast on 453.95 MHz)
112 Police, Central (simulcast on 453.15 MHz)
144 Police, South (simulcast on 453.65 MHz)
176 Police, East (simulcast on 453.30 MHz)
208 Police, North (simulcast on 453.05 MHz)
240 Police, Northwest (simulcast on 453.80 MHz)
368 Police, Alerts (simulcast 453.75 MHz)
400 Police, Traffic (simulcast on 453.25 MHz)
Palm Beach County, Florida
Hi Dan:

Just got my copy of the December 2002 issue and read your article on trunking systems. Great idea!

Regarding Palm Beach County, the entire system is a Motorola Astro-CAI SmartZone system with 4 SmartZone cells. The sites you listed are all part of Cell #1's 10-site simulcast system, and is used only by County departments. Cell #2 is used by the city of Boca Raton, Cell #3 is used by the city of Boynton Beach, and Cell #4 is used by the city of Delray Beach.

Everything on Cell #1 is analog with the exception of SWAT, SRT, and OCB, all of whom also use Astro-CAI digital plus encryption for operations (they sometimes leave encryption turned off). On Cells 2 - 4, Police and Fire is all Astro-CAI digital except for Local Government, which is analog.

On all cells, talkgroups 16 to 8176 are Astro-CAI digital, while 8192 to 65520 are analog.

Also, Martin County, Florida just went on the air with their new Motorola Astro-CAI system, which replaced their Multi-Net 2 system. Their frequencies:

866.0375, 866.2250, 866.2625, 866.3750, 866.5375, 866.5625, 866.6625, 866.7875, 867.1750, 867.6375, 867.6750, 867.8875, 868.1750, 868.3250, 868.5375, 868.5750

Police and Fire are Astro-CAI digital with Local Government analog. The city of Stuart is also on the system. Callsign is WPKX912, 3 sites.

Hope that helps!

Brian in Florida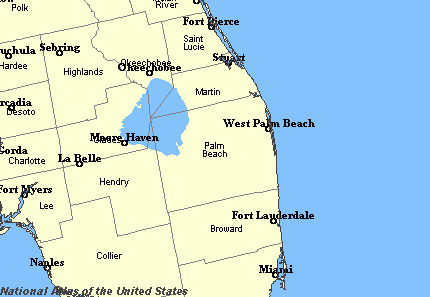 The four cells in the Palm Beach County system are:
Cell One
(Primary, 10 repeater sites)
856.3125, 856.3375, 857.3125, 857.3375, 858.3125, 858.3375, 859.3125, 859.3375, 860.3125, 860.3375, 866.1000, 866.1250, 866.3250, 866.3500, 866.6000, 866.6250, 866.7500, 866.8250, 867.1000, 867.3250, 867.3750, 867.5750, 867.7625, 868.2250, 868.3750, 868.6500, 868.7000 and 868.7250 MHz.
Cell Two
(Former Boca Raton 800 MHz conventional)
852.5625, 852.5875, 852.6125, 853.6375, 853.6625, 853.7875, 853.8125, 854.5875, 854.6625 and 854.6875 MHz.
Cell Three
(Former Boynton Beach Type 1)
856.2875, 857.2875, 858.2875, 859.2875 and 860.2875 MHz.
Cell Four
(Former Delray Beach UHF)
866.3750, 866.7750, 867.0750, 867.6750 and 868.1500 MHz.
Talkgroups:
5840 Boca Raton Police dispatch
6480 Boca Raton Fire dispatch
6512 Boca Raton Fire, Tactical-1
6544 Boca Raton Fire, Tactical-2
55952 Boca Raton Lifeguards
7120 Boynton Beach Police Dispatch
7184 Boynton Beach Police car-to-car
7760 Boynton Beach Fire Dispatch
57328 Boynton Beach Lifeguards
3216 Delray Beach Police Dispatch
3280 Delray Beach Police Operations
3312 Delray Beach Police Operations
3824 Delray Beach Fire Dispatch
60176 Highland Beach Police
34192 Palm Beach County Fire, Main 1C
34224 Palm Beach County Fire Command 2A (North Tactical)
34416 Palm Beach County Fire Command 8A (South Tactical)
34608 Palm Beach County Fire Command 2B
34800 Palm Beach County Fire Command 8B
35568 Palm Beach County Fire Command 2C
63760 Palm Beach County Fire Law Enforcement Calling (Interagency)
63920 Palm Beach County Fire Common 1 (Interagency)
40080 Palm Beach County Lifeguards, North
40112 Palm Beach County Lifeguards, South
40368 Palm Beach County Public Works
26704 Palm Beach County Sheriff Dispatch, North (simulcast on 154.845 MHz)
26768 Palm Beach County Sheriff Dispatch, Central (simulcast on 154.725 MHz)
26832 Palm Beach County Sheriff Dispatch, South (simulcast on 154.785 MHz)
26928 Palm Beach County Sheriff Dispatch, West (simulcast on 154.815 MHz)
41296 Palm Transportation Buses Dispatch
61104 South Bay Police
That's all for this month. I welcome your questions and comments via e-mail at dan @ signalharbor.com, and I've got more information and links on my website at www.signalharbor.com. Until next month, happy monitoring!